Contact: Sydney Adamson, Communications Manager
[email protected]
, 410-547-9000, ext. 337
The Walters Art Museum Acquires Works by Contemporary Artist Roberto Lugo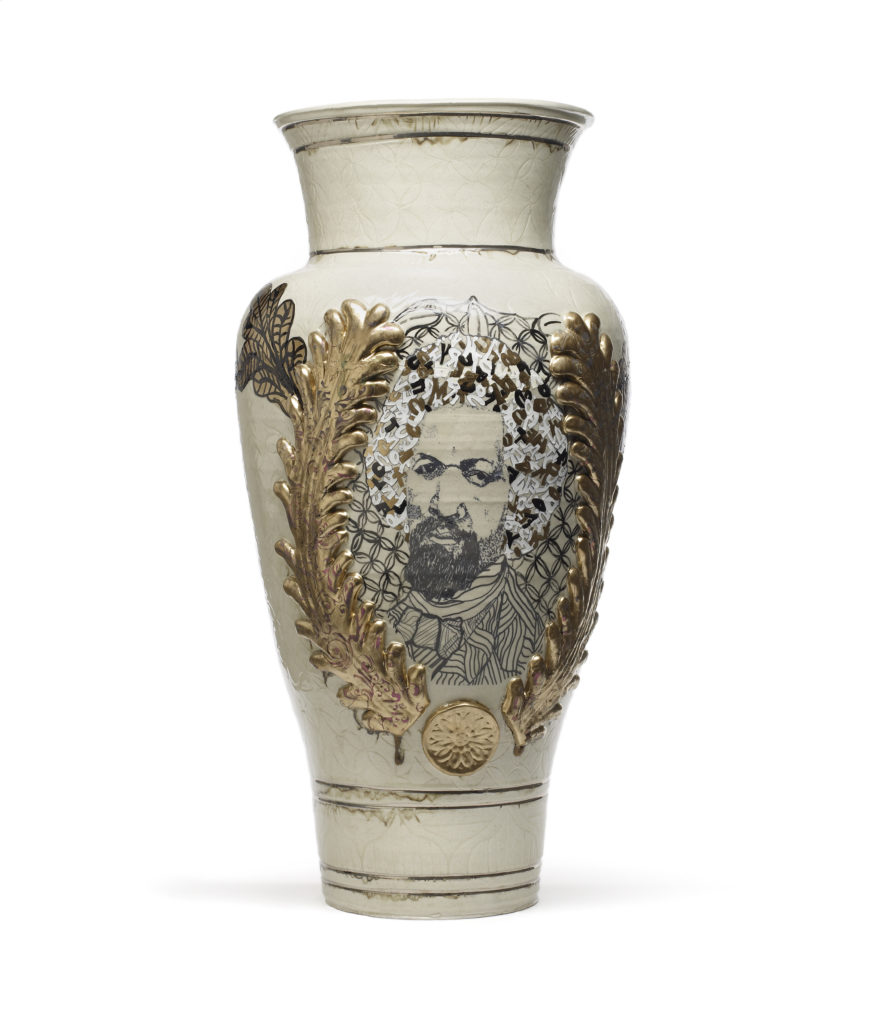 Throughout 1 West Mount Vernon Place, known to many as Hackerman House, visitors can encounter the vibrant, enthralling work of contemporary ceramicist Roberto Lugo. The Walters Art Museum commissioned Lugo to create works for the opening of 1 West that would resonate both with the museum's collections of historic ceramics and with the stories being told about the people associated with 1 West.
Now, three of those works have become part of the Walters' permanent collection, making them the most contemporary artworks in the museum's holdings. This fall, the Board of the Trustees of the Walters Art Museum approved the acquisition of Frederick Douglass Food Stamp Jar, Set of Six Dinner Plates, and Slave Ship Potpourri Boat.
"Roberto Lugo is a star of the ceramics world," said Julia Marciari-Alexander, Andrea B. and John H. Laporte Director. "The work that he created for 1 West Mount Vernon Place demonstrates the continued relevance of our historic collection and the ways in which it continues to inspire. We are proud that Lugo's exciting art is now a part of our permanent collection and can be enjoyed by generations to come."
Lugo is a Philadelphia-based ceramics artist and Assistant Professor and Head of the Ceramics Program at Temple University's Tyler School of Art. He first came to the Baltimore in 2015 when he was a resident artist at Baltimore Clayworks. He has exhibited internationally and increasingly throughout the United States, and has work in the collections of the High Museum and the Philadelphia Museum of Art. His most recent accolades include being name a finalist in the Museum of Art and Design's inaugural Burke Prize.
"The Walters' collection continues to amaze me with its technical artistry," said Lugo. "My work being alongside this incredible art is a dream come true because I feel like I've been able to make a bridge between museums and people who haven't always been represented there."
The ceramic works the Walters' acquired have direct connections to its collection and to 1 West. In Frederick Douglass Food Stamp Jar, Lugo combined historic ceramics patterns contemporary graffiti and the likeness of abolitionist Frederick Douglass. Lugo made this work for the niche of 1 West's spiral staircase. This position is significant: the vestibule is the place where past visitors were greeted and, since it has opened, where many tours of the house begin. Now, the gaze of Maryland's most famous freedom fighter meets visitors to that space.
Lugo's Set of Six Dinner Plates makes direct references to Sybby Grant, an enslaved cook who worked at 1 West. Lugo has created a place setting for Grant that is now displayed in the dining room where guests feasted on her culinary creations, but where she herself would never have been allowed to dine. Each plate contains references to Grant, including her specialties, terrapin and canvasback duck, and a  monogram invented for her by Lugo.
In Slave Ship Potpourri Boat, Lugo takes direct inspiration from the Walters' collection of Sevres porcelain. An eighteenth-century potpourri in the shape of a ship is transformed into a reference to the transatlantic slave trade: Lugo copied the form of the Sevres vessel, adding the head of George Washington at each end, and decorated its side with a diagram, taken from an abolitionist print, depicting a slave ship packed with human cargo.
The recently acquired ceramics will be on view at 1 West through July 2019, along with other works Lugo created for the space. Lugo returns to the Walters this Thursday, November 8, for Kicking in the Doorway, a lecture about his work and its connection to ancient art history, 19th-century Baltimore, and our current political era. He is available for interviews.
ABOUT THE WALTERS ART MUSEUM
The Walters Art Museum is a cultural hub in the heart of Baltimore, located in the city's Mount Vernon neighborhood. The museum's collection spans more than seven millennia, from 5000 BCE to the 21st century, and encompasses 36,000 objects from around the world. Walking through the museum's historic buildings, visitors encounter a stunning panorama of thousands of years of art, from romantic 19th-century images of French gardens to mesmerizing Ethiopian icons, richly illuminated Qur'ans and Gospel books, ancient roman sarcophagi, and serene images of the Buddha. Since its founding, the Walters' mission has been to bring art and people together to create a place where people of every background can be touched by art. As part of this commitment, admission to the museum and special exhibitions is always free.